I wrote "The Vertical Web" in 2013.  I presumed the IT industry will enter a saturation and consolidation phase similar to the automobile industry of the 1930s and the largest IT companies will merge, fail or assimilate.   I used only an analysis of business strategy, no quantitative data like ROI, debt ratios, stock price, etc.   Here's my original spreadsheet...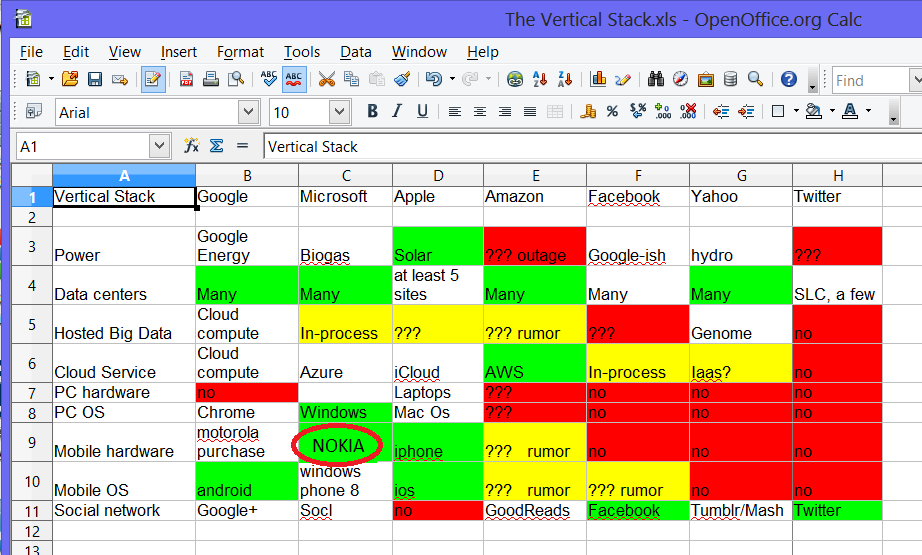 ---
One prediction panned out this week from Twitter's acquisition by Elon Musk.  In 2013, Twitter was weakest with no competitive strategy and was a likely acquisition target.
Today, a second prediction came closer to fulfillment.  I identified Yahoo and Facebook as the other weakest players. Facebook (now Meta) stock has fallen  72% this year, lost $230 billion in market cap and is losing $3 billion per quarter.  Zuckerberg's ego and lack of real-life experience led the company into an abyss.   You didn't let me down, Zuck!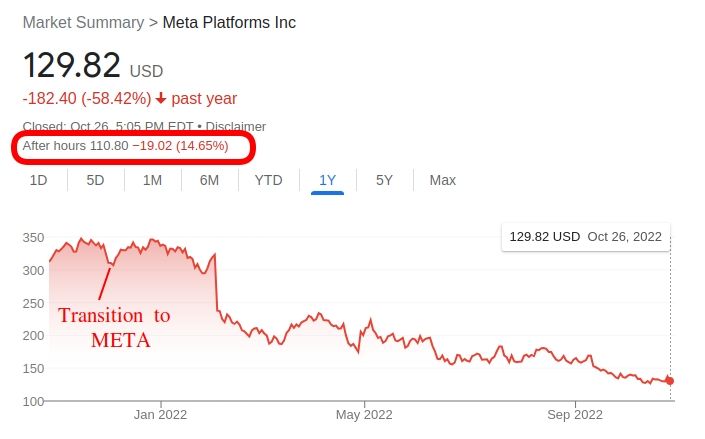 ---
Back to the spreadsheet.  For twenty years, the top companies had a strategy of vertical integration.   I suspect Zuckerberg recognized this and thought he could leapfrog past it to a second innovation, the MetaVerse.  In the olden days, this was called "Second System Effect".
"The second-system effect or second-system syndrome is the tendency of small, elegant, and successful systems to be succeeded by over-engineered, bloated systems, due to inflated expectations and overconfidence"
An original, lean but flawed success is often followed by a second project crippled by ego, perfectionism and overcompensation.
Note my prediction of large layoffs by the major IT companies during a consolidation phase.  This year's reductions: 45% at Twitter, 15% at Facebook and stock down 71%, 100K at Amazon and stock down 35%, impending layoffs at Microsoft (down 30%), Google (down 37%), Amazon (down 50%) and Apple (down 20%).  The true fix for unemployment is a lower workweek to redistribute a shrinking amount of work, demonstrable by two linear equations I derived fifteen years ago.